Novel Coronavirus (COVID-19) has significantly affected the global economy over the first quarter of 2020. More specifically, it has had a large impact on the shipping industry. Looking at the specifics of its impact on the shipping industry can teach us a lot. At the time of writing this blog, COVID-19 had just under 1 Million confirmed cases worldwide and over 46,000 reported deaths. In the United States, COVID-19 had 215,000 confirmed cases and 4,800 reported deaths.
Major carriers such as FedEx, UPS and DHL have experienced a large decrease in small parcel shipping volume. As of March 5th, FedEx had experienced a 41.5% decrease, UPS a 65.5% decrease and DHL a 23.9% decrease in volume. Not only has the volume of parcel shipments decreased but so have delays for the shipments that are out for delivery. FedEx has reported a 4.3% increase in shipment delays, UPS a 7.4% increase and DHL a 6.9% increase. Out of all shipment types, international shipments have experienced the largest increase in delays.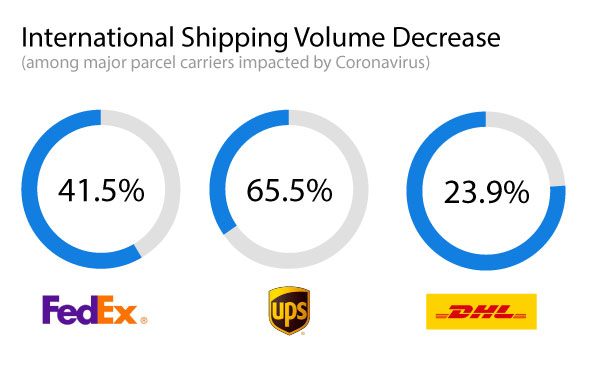 It's important to note that some of the world's largest consumer goods and materials companies have their primary supply sources in China, the source country for COVID-19. For example, about 70% of footwear that is sold in the United States is obtained from China. Brands like Nike, Steve Madden, Gap, and Kohl's all have a large percentage of their goods sourced from China. Outside of the retail industry, the other industries being heavily affected due to their dependence on China are electronics, apparel, and mechanical parts companies.
Carriers like FedEx, DHL and UPS warned the public as early as February that they expect coronavirus to disrupt their Q1 results. It's insightful to note that in China, the lowest levels of cargo shipping were reached in mid-February and DHL was preparing for a $66 million to $77 million negative impact to Group EBIT (Earnings Before Interest and Taxes) for the month of February. That being said, forecasts show that cargo levels are expected to make a recovery in Q2 of 2020 and return to close to normal levels as shippers and other organization's push for regular demand. An example of this is UPS, who's CFO Brian Newman reported that the effects of COVID-19 on their shipping seemed to have reached its trough in February, since UPS had experienced a rebound in the demand for shipments by the last week of February into the first week of March.
Shipping Industry Trends Moving Forward
In conclusion, the Q1 earnings of companies that are in the shipping industry or rely heavily on the shipping industry have been significantly affected by COVID-19. Experts forecasts predict that Q2 will see the same companies make close to a full recovery, while operations in Q3 and Q4 of 2020 should return to normal. The onset and seriousness of COVID-19 has led to the assessment of many rules, and health regulations within the shipping industry. It's likely that if there is another pandemic such as COVID-19 within the next few decades, the shipping industry among others will be better prepared to react.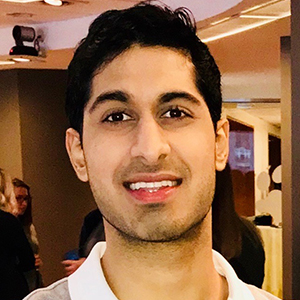 Aryaman Nichani is the Head of Innovation at ShipConsole. Prior to ShipConsole, Aryaman was the Founder and CEO of ZealMe Incorporated, an artificial intelligence and messaging start up. He successfully sold ZealMe's technology in 2018. Aryaman has five years of experience in the startup industry and has lived in Silicon Valley, NYC, Bangalore and Boston.
Aryaman attended Trinity College in Hartford, CT where he studied Computer Science and Behavioral Economics. He has also taken courses in Blockchain Technology and Business Management at the Harvard Division of Continuing Education.