The Purpose
Oracle JD Edwards Enterprise One is an integrated applications suite of extensive Enterprise Resource planning software.
ShipConsole now provides integration with Oracle JD Edwards (JDE) and this is a strong step forward for ShipConsole in its mission to optimize and simplify shipping and logistics for Oracle Applications at an affordable price.
The Offering
ShipConsole's integration with Oracle JDE is very comprehensive. Its easy to use software creates an integration between Oracle JD Edwards and freight carriers like UPS, FedEx and various LTL carriers. Tasks such as online shipment processing, label printing, shipment tracking, instantaneous proof-of-delivery documentation, and Oracle ship confirmation can all be done from a single unified interface in ShipConsole. This enhances productivity and makes the software a one-stop-shop for all shipment related information. For a list of features that ShipConsole's software offers click here.
ShipConsole for Oracle JD Edwards is available as a Software-as-a-Service (SaaS). The SaaS is hosted on Amazon Web Services (AWS) and is run on a monthly subscription model.
The Integration
As shown in the diagram below, Multi-Carrier Shipping Software is essential in today's global supply chains to manage costs and deal with the myriad of complex choices available. Having the right shipping software to integrate with Oracle JDE can significantly reduce an organization's transportation spend and enhance their customer experience.

The Benefits
The benefits of shipping with ShipConsole vs. shipping without ShipConsole include:
Increasing shipping volumes and productivity by having a one-stop shipping solution
Reducing transportation spend with freight shopping
Identifying billing errors using the freight audit report
Avoiding delivery delays and additional fees with address validation
Saving on international shipments using AES direct
Enhancing customer loyalty with integrated tracking and shipment notifications
Eliminating manual data entry
Experiencing being able to ship, print labels, ship confirm, check shipment statuses and proof of delivery in significantly less time than before
Printing shipping labels and shipping documents from a single user interface
Getting easy access to shipping data and freight costs from Oracle JD Edwards ERP
Getting access to integrated rate shopping with carriers from Oracle JD Edwards
Contact Info
Call us at +1-978-775-5014 or email us at info@shipconsole.com to see how you can implement ShipConsole for your Oracle JD Edwards, Oracle E-Business, or Oracle Cloud Applications.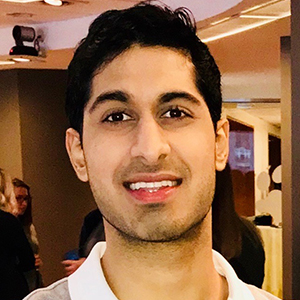 Aryaman Nichani is the Head of Innovation at ShipConsole. Prior to ShipConsole, Aryaman was the Founder and CEO of ZealMe Incorporated, an artificial intelligence and messaging start up. He successfully sold ZealMe's technology in 2018. Aryaman has five years of experience in the startup industry and has lived in Silicon Valley, NYC, Bangalore and Boston.
Aryaman attended Trinity College in Hartford, CT where he studied Computer Science and Behavioral Economics. He has also taken courses in Blockchain Technology and Business Management at the Harvard Division of Continuing Education.