Are you confident that your organization is screening a list of your partners against the ever-changing Denied Party List database?
ShipConsole's Denied Party Screening solution enables organizations of all sizes to quickly and efficiently screen Customers, Suppliers and Trading Partners to automate Oracle shipping management. Integration with Oracle allows your business to reliably manage the export compliance screening process of shipping operations in the cloud.
A manual screening process for denied parties is an impossible task due to the number of screenings that are required. Manual screenings will take a considerable amount of your resource's time and are highly error prone, often leading to costly penalties. With ShipConsole's Denied Party Screening solution, you get a simple way for Oracle E-Business Suite and Cloud ERP Application users to check all of the parties you are doing business with against the wide variety of Restricted Party lists.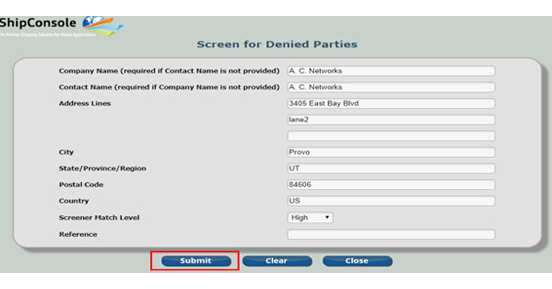 Simple Denied Party Screening Process from Oracle Environment
Enter a company or contact name and any optional information like address, city, state, postal code, and country.
Select High, Medium, or Low from the Screener Match Level drop-down menu to request the level of detail for this screen. High is the default selection.
Click on Submit to submit the request
Integration with UPS Denied Party API
Oracle E-Business Suite users can schedule ShipConsole Denied Party Screening to run at regular intervals for all open orders. Our screening program pulls the party name and ship to site address from Oracle and then it passes the details to the API. The API responds with details regarding whether info is present on any of the Denied Party lists maintained by UPS. If a match is found, ShipConsole will update a DFF in Oracle Cloud on the ship to site to indicate that this party was found on one of the restricted party lists. It is also possible to send email notifications saying that this party was found on Denied Party lists.
With ShipConsole you get an Oracle Shipping Solution that help you leverage UPS APIs and UPS maintained databases to perform this validation and return the result. UPS does a thorough job of maintaining denied party lists so they stay extensive and stay up-to-date.
To learn more call us at 800-998-0210 or email us at info@shipconsole.com to see how you can enable Denied Party Screening solutions for your Oracle E-Business or Oracle Cloud Applications.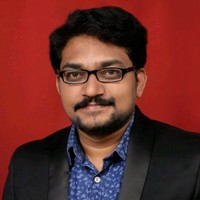 Pavan Telluru works as a Product Manager at ShipConsole. He brings over a decade of experience to his current role where he's dedicated to conducting product demos to prospects and partners about how to organizations can efficiently manage their shipping execution process. He also leads marketing efforts at ShipConsole.