Most shipping managers don't realize that they are overpaying for their transportation and spending too much time obtaining quotes from carriers. Going to their individual carrier websites for quotes is very time consuming. Finding the best rate for your parcel and freight carriers can be a big challenge, knowing charges upfront during order capture or booking will help you consistently select the best shipping service. The freight rating feature included with ShipConsole also reduces your transportation shipping costs significantly.
Today, customers want more flexibility and delivery options when it comes to shipping. Rate shopping software is the best way to automatically select the optimal service for every shipment. A shipper is able to see top 10 carrier options in ShipConsole dashboard to make smarter decisions. Multiple carriers will be displayed for shipments depending on business rules that are applied so you can compare options and select the best one for you.
Multi Carrier Shipping API
With Multi-Carrier Shipping Software API, you can get quotes from anywhere you need them during the shipping process. Info can be accessed easily in the shipping management dashboard from sales order forms to shipping transaction forms. The shipping software can also be scheduled to run during the pick-release process to get the best real-time quotes.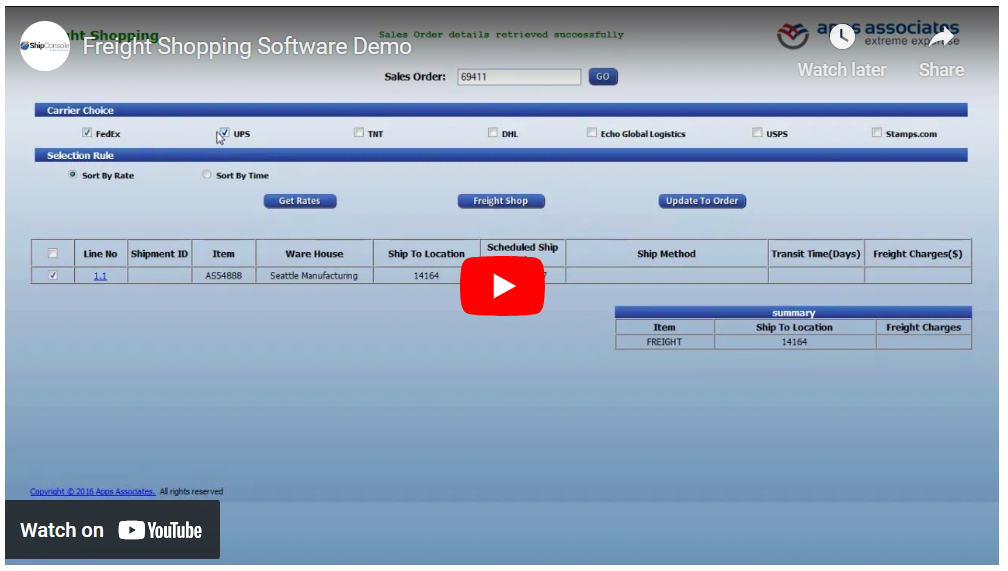 ShipConsole integrates seamlessly with Oracle EBS and other ERP systems so you'll be able to access relevant info across your organization. This allows for in-depth shipping analytics that accurately show the cost of shipments from different departments so you can see where improvements need to be made most. Shipping data will be stored in the cloud so you'll be able to access important information from anywhere.
Oracle E-Business Suite Customers can quickly get quotes from multiple carriers in simple steps.
Select all preferred carriers for quotes
Based on your business rules you can filter results for the fastest service or cheapest option for delivery. You can also get detailed comparison of top 10 service levels based on your origin, destination, weight, dimensions…
Update shipping costs on the original sales order form under the new freight line item after selecting the best service based on custom business rules
Automated Shipping Solution
All of the above steps can be completely automated with ShipConsole or you can access the user interface to get the quick quotes for parcels and LTL carriers. There are also multi carrier rating API's available that you can call from any order Management system for freight quoting. Using multi carrier shipping software to automate order management will allow you to spend less time worrying about shipping logistics and focus on items important to your business. Custom business rules can be configured so that you can be sure you're getting the best shipping rate for every shipment.
Benefits of ShipConsole Freight Rating:
You can have one integrated system for all your rating needs, important info all in one dashboard
Eliminates need to manually navigate through multiple sites for quotes
Flexibility to add more carriers
Easy to set up (No Implementation time)
Bhanu Prasad Pambala works as a QA Manager at ShipConsole. He brings over a decade of experience to his current role where he takes care of ShipConsole products implementation to new clients and plans to perform different types of testing activities, ensuring high-quality products are delivered.